How to Trade Less and Make More
by Frank Soler of SolerInvestments.com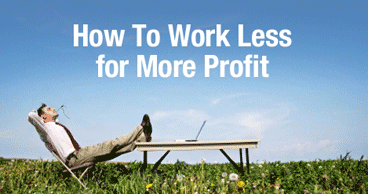 Wouldn't it be great to spend less time trading while increasing your profits?
Luckily, decreasing the amount of time you spend trading helps to improve your results.
By forcing yourself to spend less time in front of your screens, you accomplish numerous favorable results. Just to name a few:
The more time you spend in front of the screen, the more time you'll have to convince yourself that you should be taking trades (over-trading)
Taking fewer trades will equal taking fewer bad trades
You will be more focused during the shorter time you're in front of your charts, which equals finding better trades
With fewer hours spent trading, you'll have to trade fewer markets (which is so important and a great topic for later), but this is very good
You'll start to spot the set-ups you're looking for much quicker, allowing you to swiftly ignore charts that don't show these set-ups
Not stressing out watching the trades that you're in minute-by-minute equals less stress (even watching a profitable trade too much will increase your stress level)
If you do anything too much, even if you love it, you'll start to hate it (at least a little bit)
Physical benefits such as less sitting, less strain on your eyes, more exercise (hopefully, since you'll have more time)
Simply less time spent trading will give you more time to do other important things (family, reading, traveling, etc)
These are just some of the benefits of spending less time trading, there are many, many others.
Just to be clear, you still need to dedicate time to viewing your charts and paying moderate attention to them.
However, I would venture to say nearly all amateur traders spend way too much time in front of their screens. And, you don't want to trade like amateurs, do you?
Frank Soler is a successful trader and Registered Investment Advisor. His company provides real-time Forex, Futures, Options, and Stock Picks, an eye-opening Trading Blog, and a free online trading education center.